Special Valves Built by Mueller Co Protected Lock Gates in the Panama Canal
In the early 1900s the Mueller Co. began a search for an engineer to redesign and modernize its line of pressure regulators. It found such a man in the person of A.W Cash, a Boston engineer who had made his reputation by developing pressure reducing valves for the Boston Pneumatic Street Car Co.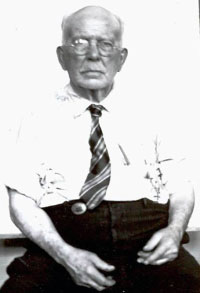 A.W. Cash
Cash designed a new line of pressure regulators that included, for the first time, a line of large valves. In 1913 this led to an order from the United States government for 95 large special valves to protect the lock gates in the Panama Canal from being damaged by ramming of ships unable to stop as desired. On each of them was a diamond-shaped trademark which said H. Mueller Mfg. Decatur, Illinois.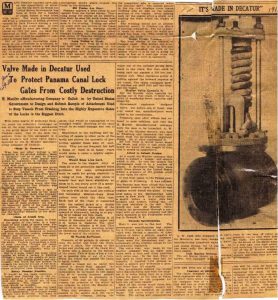 Old Newspaper article with photo of the Valve
The Government contract consisted of: 95 Valves in all. Each valve measured 3'6" in height, and weighed 500 lbs. It took 3 weeks to make one valve. The spring was the only part not made by the Mueller Co. The contract came to a grand total of $25,000.